Prayers of our unique calling
 Daily Devotions for June
Praying with Thomas Merton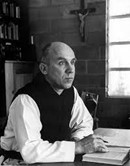 Thursday, June 1, 2023. Prayer 1589. I Am Poor in Spirit
A Trappist monk, and celebrated writer and activist Thomas Merton, 1915-1968, encourages us in contemplative prayer and meditation, inviting us to become fellow explorers of the soul life.  Let his insights help us catch a glimpse of the divine in our everyday living.  "Do you suppose I have a spiritual life?  I have none.  I am indigence.  I am silence.  I am poverty.  I am solitude, for I have renounced spirituality to find God."  Merton has us read Isaiah 44:3-4 "I will pour out my spirit upon thy children and they shall spring up among the herbs and willows beside the running waters."
Holy God, in our poverty of spirituality, revive us with your spirit that our soul may flourish and blossom. Amen.
 Friday, June 2, 2023. Prayer 1590. I Have No Idea
How will we know the way?  Merton begins in prayer, "My Lord God, I have no idea where I am going.  I do not see the road ahead of me.  I cannot know for certain where it will end.  Nor do I really know myself, and the fact that I think I am following your will does not mean that I am actually doing so.  Lead me by the right road, though I may know nothing about it."  In our Spirit life, our confidence is in God's confidence, not our own inner voice.  Being directed by God is being willing to let go of our self-direction, thinking that what we choose is the right way.  We submit to God's way.
Holy God, though I have no idea where I am going, I pray that you show me the way that leads to you! Amen.
Monday, June 5, 2023. Prayer 1591. How Far to God?
Does spirituality lead us home or lead us out into the world?  Merton points out, "In one sense we are always traveling, and traveling as if we did not know where we are going.  In another sense we have already arrived.  We cannot arrive at the perfect possession of God in this life, and that is why we are traveling and in darkness.  But we already possess God by grace, and therefore, in that sense, we have arrived and are dwelling in the light.  How far have I to go to find you, in whom I already have arrived."  In prayer we ask God to find us wherever we are that we find God is with us too.
Holy God, grant that my spiritual journey be blessed with signs of your grace that I may know I have arrived. Amen.
Tuesday, June 6, 2023. Prayer 1592. All that Needs Be Done
We live with great a varied demands upon us and we have to continually prioritize the use of our time.  Does this include our soul work?  Or do we place that aside for the time being?  Merton prays to God, "You know my soul.  You know all that needs to be done there.  Do it in your own way.  Draw me to you.  Fill me with pure love of you alone.  Make me never go aside from the way of your love.  Show me clearly that way and never let me depart from it: that will be enough."  One of the hardest things to do in our spirit life is also the easiest: stop every other thing and listen.
Holy God, let me not be afraid to put down every other thing and attend to what you are doing in my soul today. Amen.
Wednesday, June 7, 2023. Prayer 1593. From Tribulation to Attachment
The promise of faith is that God is in fact bigger than our problems.  What is the gift of our trials and tribulations?  Merton grants us insight.  "Tribulation detaches us from the things of nothingness in which we spend ourselves.  It gives us life, and we love it, not out of a love for death, but out of love for life.  Let me withdraw all my love from scattered, vain things—the desire to be read and praised as a writer, to be praised by my students, or to live at ease in a beautiful place—let me place everything in God."  Tough times can detach us from our false securities and attach us to God.
Holy God, turn my tribulations into pathways into your presence.  Let me face all things by facing you directly. Amen.   
Praying with Teresa of Avila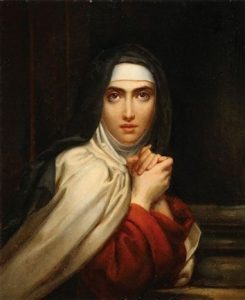 Thursday, June 8, 2023. Prayer 1594. And Then, A Butterfly
Teresa of Avila, 1515-1582, was a Carmelite nun in Spain and was considered a doctor of the church because of her reform efforts and for her dynamic spirituality, faith, love and gift for writing.  The central themes of her work on the spiritual life include humility to counter arrogance and melancholy; obedience to God's Word; courage and determination through health concerns and self-doubts; and love for God and for deepening relationships with others.  Teresa compares our passages to that of a silkworm in a cocoon and then into a white butterfly.  Each stage is God given.
Living God, grant me the courage to enter into each new stage of my life that I may hold onto you by letting go. Amen.  
Friday, June 9, 2023. Prayer 1595. What Do You Want of Me?
Facing the mystery of God, Teresa found humility to be her response.  Humility is needed to accept oneself as they are, flawed, having both good and bad, feeling arrogant or inadequate, and humility allows us to see God as God, not our version of God.  God's grace allows us to face misery with mercy.  She wrote a poem in which she places herself in God's hands;  "In your hand I place my heart, body, life and soul, myself offered to you What do you want of me? Give me, if you will prayer; let me know dryness, an abundance of devotion or if not, barrenness.  What do you want of me?
Loving God, let me not be so impressed with myself, for my best or my worst, that I do not ask what do you want? Amen.
Monday, June 12, 2023. Prayer 1596. Surrendering Our Will
The Spirit life comes alive in conversation.  To see each conversation, we have with loved ones, neighbors, strangers, co-workers, clients, as a holy moment for listening brings unexpected beauty into the world.  Teresa taught much about obedience to superiors, to fellow pilgrims, and to the way of God.  She speaks of surrendering our free will over to God, sometimes denying ourselves, sometimes being challenged to do things we thought we were not capable of doing.  It can be painful.  But listening to another's reflections of our choices, situations, feelings and actions is our soul work.
Listening God, grant me the courage to get outside myself and let others reflect with me the path you choose.  Amen.  
Tuesday, June 13, 2023. Prayer 1597. Be Magnanimous in Spirit
Imagine being so courageous and determined to live by faith, that when the boat breaks from the line and you are being swept downstream you bow in prayer while the others scream?  That happened to Teresa.  She encouraged her fellow students that courage and determination is what is required in the faith life.  There will be many inner and outer obstacles to overcome.  Courage moves us from being pusillanimous small souled to being magnanimous great souled. She would pray "Let nothing trouble you, let nothing scare you, all is fleeting, God alone is unchanging.  Patience."
Enlarging God, grant me the increasing capacity of soul to first pray greatly in the face of any and all hardships. Amen.
Wednesday,  June 14, 2023. Prayer 1598. Expanding Visions of God
In Genesis, we hear the story of Jacob and as he was travelling, placed his head upon a stone, as if a pillow.  He had a dream that a ladder appeared with God's angels going up and down. He exclaimed upon waking, "Surely God is in this place, and I didn't know it."  Teresa teaches the importance of intellectual visions.  These inform the soul.  They may not be fully described to others, but they are yours to further your faith life with God.  In essence, envisioning the mysteries of God, is a part of our spiritual journeys to see the larger truth of it all.  And, I always say, check it out with others.
Envisioning God, grant me to see how you are present in the world that my truth draws closer to your truth. Amen.