Prayers of our unique calling
Prayers from the ark
 Monday, April 12, 2021. Prayer 1119. Building a Holy Tub
In Genesis 6:14 God says to Noah, "Make yourself an ark." The word tevah means tub in ancient languages. If you wanted to make a tub big enough to save your family and two of all living things on the earth for the day of a great flood of biblical proportions, you would have to trust in the cause and follow the instructions. The ark was over 500 feet long and had four decks and a giant door. God tells Noah to take in "two of every sort." Imagine the zoo in this holy tub. It worked. It was noisy. It was cramped. It lifted them above the waters.
Dear God, imagine putting two of every sort in one place again? Let us build an even bigger ark for all. Amen.
Tuesday, April 13, 2021. Prayer 1120. Boating with God
It's important not to get out of the boat when danger is swirling all around you. You must trust in the boat to carry you to higher ground. The Hebrew name "Noah" means "rest" and "comfort." Those names easily could have been painted on the side of the ship. Who belongs on Noah's ark? All life in need of rest from violence, abuse, neglect, and human horror. Genesis 6:9 describes why God selected Noah. Noah was righteous, blameless, and walked in holiness. The world was corrupt and filled with violence. God put that to rest.
Dear God, it is hard to acknowledge the level of violence in our world. Can we build a better boat? Amen.
Wednesday, April 14, 2021. Prayer 1121. Risk and Reward
Finding the place you really want to be in life requires great risk in order to receive reward. Take vaccines for example. You could receive an undesirable side-effect. Not taking it could also lead to an unwanted outcome. What to do? In Genesis 7:15 we read, "They went into the ark with Noah, two and two of all flesh in which there was the breath of life." As long as we live we must take risks to build and gather all in the ark of rest, comfort, and life. Putting to rest the corrupt ways of the human world would have us land great rewards.
Dear God, the world is always at risk. Grant us the wisdom and the courage to reward life with life. Amen.
Thursday, April 15, 2021. Prayer 1122. Rain or Rainbows
Genesis 7:17 tells us "The flood continued forty days on the earth. The waters increased and bore up the ark, and it rose high above the earth. The waters prevailed and the ark floated on the face of the waters." Now that is a weather report! What was the prayer from below deck? Will there be rain or rainbows in our future? Take note: the water that meant certain destruction is also the force that lifted up the boat. Imagine a world in which a rising tide lifts all ships and, one in which we find rainbows where there had been all rain.
Dear God, who is our Noah today? Do you promise us "never again will you cut off all life?" we pray. Amen.
Friday, April 16, 2021. Prayer 1123. Cattle and Crops
According to the account in Genesis, it is possible that Noah and all in the ark spent a full year onboard. That is a long time without being settled. The prayer from on deck searching across the surface of the waters was "will we ever be able to raise livestock and grain again?" Once on dry land, Noah makes a burnt offering to the Lord which pleases God so much the Lord says in Genesis 8:22 "While the earth remains, seedtime and harvest, cold and heat, summer and winter, day and night, shall never cease." Life begins again.
Dear God, we have lost a year in the pandemic. Will we be able to settle down and let life begin again? Amen.
Prayers from the pasture
 Monday, April 19, 2021. Prayer 1124. Want Not
We live in a world of want. For those doing well by social standards, measurements are taken in amounts and generally things. For those who have not, want is felt most keenly in the struggle to provide. Psalm 23 begins "I shall not want—The Lord is my shepherd." What would it mean for us to let the Lord direct our wants and needs? A shepherd is tasked with tending to the flock. If the flock is lost, then the whole village feels hunger and exposure to the cold. I am glad to not want what I want, but to want what God wants for me.
Dear God, I know I am in need of good leadership. Shepherd me with your strong and gentle way. Amen.
Tuesday, April 20, 2021. Prayer 1125. Green Pastures
There is a lot of life happening in greening pastures. The spring rains have turned the fields into a verdant view. Take a moment to lie down in the sun. Bees are working on the first flowers. Bugs are busy amongst the leaves. Little mammals dart in and out of harm's way to risk a meal. The shepherd leads the sheep up over the next hill to find fresh greens and to return to rest. Sheep can be affectionate or stubborn, passive or suddenly startled, always hungry. Are we like sheep? What is our prayer from our pasture?
Dear God, help me to find rest today amongst a busy world. May I find green pastures in this place. Amen.
Wednesday, April 21, 2021. Prayer 1126. Right Paths
I often quote that George Harrison lyric, "If you don't know where you're going—every road will take you there." What is the right road for me to take? This is a basic spiritual question. How do I know that I am on the right path? What directions will I find on the signposts? Psalm 23:3 says the Lord our shepherd "leads me in right paths—for his name's sake." Remember the names of the Lord and remember the road you're on. Jesus is "God Saves." Christ is "Anointed." God will save us and bless us on the road we are on right now.
Dear God, can my faith be as bold as to be convinced you will save me despite the choices I have made? Amen.
Thursday, April 22, 2021. Prayer 1127. Prepared Tables
They say Jesus was a son of a carpenter. We don't know if Joseph was a framer or a finish carpenter. Did he make tables and chairs? Did he carve spoons and bowls? Psalm 23:5 says of our shepherd Lord, "You prepare a table before me in the presence of my enemies." Who is our enemy today? Our body? Our Illness? Our mind? Our negativity? Our spirit? Our lack of faith? Is it another person's needs or our society's ills, or a real life bully? Imagine sitting down to supper, saying grace, and finding sustenance despite what's against us.
Dear God, I am glad for this old table. We had many meals, moments and memories you prepared. Amen.
Friday, April 23, 2021. Prayer 1128. Surely Goodness
Are we convinced that God has something in mind, or are we even more certain that the world is heading in a bad direction? Psalm 23: 6 declares, "Surely goodness and mercy shall follow me all the days of my life." Surely goodness is what God is all about. Surely goodness is what God wants us to be about. Surely goodness is what is to come if God is in charge. Surely goodness is the outcome of faith. Where do we go from here? Surely goodness and mercy follow us as we follow the Lord. Blessed are the merciful, they shall receive mercy.
Dear God, show us how to enter your dwelling place built by words and deeds of tender loving care. Amen
Prayers under a pink moon
 Monday, April 26, 2021. Prayer 1129. Night Light
Today we pray under a Pink Moon. Named for the color of the spring flower Phlox subulata that are beginning to bloom now. Also, it just so happens to be a Supermoon as the moon is closer in its orbit to the earth than usual, being only 222,211.7 miles away. Gardening wisdom says this is good time to weed, prune, thin, and plant crops. Tradition has it that the moon signifies wisdom, intuition, birth, and a spiritual connection. And, anecdotally we see human behaviors act up during the time of a full moon.
Dear God, grant us wisdom in the ways of life. Thank you for shining a light on us at night. Amen.
Tuesday, April 27, 2021. Prayer 1130. Listen to the Moon
If the moon spoke to us, would we listen? Psalm 81:3 announces at the worship service: "Blow the trumpet at the new moon, at the full moon, on our feast day!" In the psalm, God goes out across the land and then says, "I hear a language I had not known. Don't bow down to strange gods. I am the Lord your God. But, my people did not listen to my voice. Oh, that my people would listen to me." The wisdom of the moon has been shining down on us for eons. Are we so good at making our own noise that we have missed the message?
Dear God, in the silence of space the moon speaks volumes. Help us to put our listening ears on. Amen.
Wednesday, April 28, 2021. Prayer 1131. Moonset
"When I look at your heavens, the work of your fingers, the moon and the stars, which you have set in place, what are human beings that you are mindful of them, that you care for them?" In the phases of the moon and night and day on earth, we experience moonrise and moonset. We can't always see the moon when it goes over the horizon but we know it's still there. What does the moon do during the day? Psalm 8:5 paints us as being "a little lower than the heavenly beings." The moon never sets on the majesty of God's creation.
Dear God, place perspective in our hearts that we may never drop below the horizon line of faith. Amen.
Thursday, April 29, 2021. Prayer 1132. Moon Marks
"Bless the Lord, O my soul! O Lord my God, you are very great! You are clothed with splendor and majesty, covering yourself with light as with a garment, stretching out the heavens like a tent." Psalm 104:1. God made the moon to mark the seasons. All creatures look to God to give them their food in due season. When do we dig, plant, water and feed? When does the last frost appear? The moon marks times of amazing moments. Meet me under the full moon. There is a face in the sky that majestically watches over us all.
Dear God, when I look up and wonder about the moon. It's amazing to think we left marks on it. Amen.
Friday, April 30, 2021. Prayer 1133. Moon Praise
"Praise the Lord from the heavens, praise the Lord in the heights! Praise the Lord, sun and moon, all you shining stars, all you highest heavens, and you waters above the heavens, for the Lord commanded and they were created." Psalm 148:1. How does the moon praise God? We have stepped on its surface and know that it is mostly space dust. Actually the surface is made of igneous rock predominately of calcium rich plagioclase feldspar. Personally I like to think that the moon is made of cheese. It's a cheese wheel, really.
Dear God, even a ball of dust praises you. Turn our charcoal gray surfaces into a wheel of sheer delight. Amen.
Praying with the Song of Songs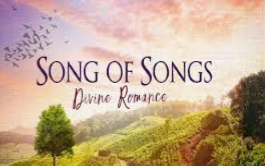 Monday, May 3, 2021. Prayer 1134. Love Awakens
The Song of Songs, which is Solomon's, expresses the human experience of the divine gift of love. It's important to realize that true love takes everything you have to give for love. In 2:5 we hear "Sustain me with raisins, refresh me with apples; for I am faint with love. Do not stir up or awaken love until it is ready!" We are never ready for what love will ask of us to do for the other. Sometimes we have to wait a long time. Sometimes we have to care for the other who no longer recognizes who we are to them.
Dear God, sustain me with a willing spirit to commit my words and actions to true love of others. Amen.
Tuesday, May 4, 2021. Prayer 1135. Love Seals
True love requires more than the feelings of romantic love in order to nurture it, guide it, protect it, return to it, and sustain it. Song of Songs 8:6 reveals true love leads to a true commitment to it. "Set me as a seal upon your heart, as a seal upon your arm; for love is strong as death, passion as fierce as the grave. Its flashes are flashes or fire, a raging flame. Many waters cannot quench love, neither can floods drown it." The power of commitment is that we commit to the other in each new day, every moment calls for a new ceremony!
Dear God, may love seal the deal in my soul. When the waters rise and the flames rage—steady me! Amen.
Wednesday, May 5, 2021. Prayer 1136. Love Moves Mountains
Love lets us not only recognize beauty, but be moved to create beauty. In Song of Songs 4:1,6 we are overcome by the thought of our beloved. "How beautiful you are, my love, how very beautiful! Until that day breathes and the shadows flee, I will hasten to the mountain of myrrh and the hills of frankincense. You are altogether beautiful, my love; there is no flaw in you." Love motivates. We climb mountains. We hasten to the hills of beauty. We see no flaws because with love even our flaws become occasions for more love.
Dear God, when we can't breathe and the shadows don't flee, help us to love our way over mountains. Amen.
Thursday, May 6, 2021. Prayer 1137. Love's Problems
We dream of a true love that makes life easier. True love requires a commitment to care for life's problems. Song of Songs 3:1 reminds us of aloneness and uncertainty, "Upon my bed at night I sought whom my soul loves: I sought but found not; I called, but got no answer." In 5:2 "I slept, but my heart was awake." In 2:15 "Catch us the foxes, the little foxes that ruin the vineyards." Love keeps us up at night worrying about the well-being of the other. Love requires protecting it against all that would sneak up and snatch it away.
Dear God, help me to tend to all my relationships that no problem becomes bigger than our love. Amen.
Friday, May 7, 2021. Prayer 1138. Love Returns
True love is the forever longing to return to love. Song of Songs 6:13 has us exclaim, "Return, return, return, return, that we may look upon you." It reports the beloved "went down to the nut orchard." Love drives us nutty. Love makes us nutty. Love makes the opposite happen. In 2:11 winter becomes spring, rain is over and flowers appear and the time of singing with the turtledoves has come. Committing to true love is a continual search for where life is renewed after a season apart, a season in dormancy, even a long pandemic.
Dear God, the whole world is ready for love to return. May we find our place in the nut orchard. Amen.