Prayers of our unique calling
Welcoming prayers
Prayers with the prophets of healing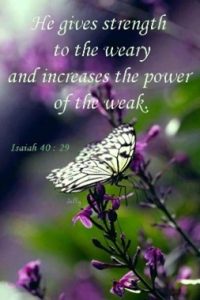 Monday, April 25, 2022. Prayer 1343. The Lord Will Heal Us
The prophet's job is to speak truth to power and comfort to the powerless.  When we face major surgery, we are in a place of great vulnerability and uncertainty.  We place our wellness completely into the hands of others.  For the prophet, they speak of the whole community being in need of God's Word of Life.  In Isaiah 57:18 we hear the Lord say, "I see your ways, I will heal them, I will lead them and restore comfort to them and to those who mourn.  Peace will come to the far and near, and I will heal them."  God dwells in a high place, and with the lowly, to revive them.
Dear God, I am not at my best right now.  Come and dwell with me that my heart is revived and my life restored. Amen.
Tuesday, April 26, 2022. Prayer 1344. Torn And Healed
When something bad happens to us it is natural to ask, "what did I do to deserve this?"  And of course, the answer may not be a clear cause and effect set of actions and outcomes.  Because God gives the breath of life, God is not neutral in our healing.  In Hosea 6:1 our prayers begin this way, "Come let us return to the Lord; for God has torn us, that God may heal us; God has struck us down and will bind us up."  As sure as the dawn light rises, so the Lord comes.  As the spring rain waters the earth, God revives us.  God tells us, "I desire your steadfast love, not sacrifices." Healing is a heart thing.
Dear God, when life breaks our heart, come and bind up those torn places with great love and new life. Amen.
Wednesday, April 27, 2022. Prayer 1345. Why Do You Cry?
The Lord speaks to our human condition in Jeremiah 30:12 "Your hurt is incurable, your wound is grievous, there is no one to uphold your cause, no medicine for your wound, no healing; you've been forgotten, your enemy has no care for you, why do you cry? Your guilt is great, and therefore, all who devour you shall be devoured, for I will restore health to you and your wounds I will heal, they called you an outcast for whom no one cares."  God cares.  Our grief is God's concern.  Even if we play a role in our own condition, it remains God's responsibility to provide a pathway to restoration.
Dear God, the sins of the human society are great and great afflict us all. Hear our cries for healing protection. Amen.
Thursday, April 28, 2022. Prayer 1346. Strength to the Weary
The pathway to healing requires great strength.  A nation must fight off an armed foe and rebuild every structure of society.  A relationship broken requires divine grace and renewed trust in living with vulnerability.  The human body goes under the surgeon's tools to remove the bad and mend the wound.  In all, time and faith take energy away.  In Isaiah 40:29 we hear from above, "God gives power to the faint, to the one with no might, God increases their strength.  Those who wait for the Lord shall renew their strength, to soar as with eagle wings, to run and not be weary."
Dear God, I am wasted away from grief and pain. I feel as if fainting away. Grant me your power to heal today. Amen.  
Friday, April 29 . Prayer 347. Restore Me to Health
When we are sick it is like our life has gone down to the deepest pit.  For ten years the king was sick, and his prayers came before the Lord.  We read in Isaiah 38:14 "I moan like a dove, my eyes are weary of looking upward, I walk slowly in all my years for the bitterness of my soul. Oh, restore me to health and make me live!  In love you deliver my life from the pit of destruction.  The Lord will save me, and we will play music on stringed instruments."  It is best for us to remember that God wants us to be healed and to sing our song of life especially when we are not feeling it while sick.
Dear God, when I am at my lowest, let my prayers begin the song that loves me back to health and to life. Amen.
Praying by the gate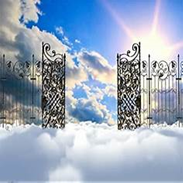 Monday, May 2, 2022. Prayer 1348. The Great Gate of Kiev
In 1874 Pictures at an Exhibition composer Modest Mussorgsky arranged a suite of ten piano pieces which concludes with "The Great Gate of Kiev" or "The Heroes' Gate at Kiev." Based on watercolors of artist Viktor Hartmann, the music resonates upon the image of the grand gate built in the 11th Century to provide the citizens of Kiev protection from uncivilized barbarians.  A wall protects, but also imprisons and prevents vital goods and service to enter.  A gate provides a means of achieving both.  Isaiah 31:14 proclaims, "Wail, O gate; cry, O city, for smoke comes out of the north."
Dear God, hear the cries of those who are wailing at the gate.  Protect them from harm.  Restore life to them. Amen.
Tuesday, May 3, 2022. Prayer 1349. By The Sheep Gate
Jesus heals on the Sabbath.  The story is told in the Gospel of John about an ancient healing pool in Jerusalem by the Sheep Gate called Bethesda. In the surrounding porticoes lay many who were blind and paralyzed.  They were sick in the body and sick in the soul.  Despite the angels stirring up healing in the pool, many couldn't find the assist to make it down to the water.  In John 5:6 Jesus asks, "Do you want to be made well?" After listening, Jesus offers to heal. Only, it happened to be on the Sabbath when such things were not allowed.  Jesus shows us every day is God's day to heal.
Dear God, so many in our world need to be healed. Help us to assist the one we can reach with love and kindness. Amen.
Wednesday, May 4, 2022. Prayer 1350. By The Beautiful Gate
There is a little village in northeast Israel not far from the road to the Sea of Galilee whose Hebrew name is Nain.  It means place of beauty and pleasantness.  It is a place where Jesus first restores a person to life.  In Luke 7:12 we are told that a mother's only child had died, and now as a widow was in trouble.  Jesus sees her and is filled with compassion.  He says, "Do not weep."  He tells the young person to rise.  Jesus was able to give the grieving widow her child back.  This all happened at the village gate.  Jesus has us remember the way to enter beauty and pleasantness is through compassion.
Dear God, we pray that the world may enter into the place of beauty and pleasantness with great compassion. Amen.
Thursday, May 5, 2022. Prayer 1351. By The Front Gate
Once there was a rich man who was clothed in purple and fine linen and who feasted sumptuously every day.  And at his gate was laid a poor man named Lazarus, covered with sores, who desired to be fed with what fell from the rich man's table.  The poor man died and was carried up by the angels.  When the rich man died he found himself to be in anguish.  Abraham told him in Luke 16:26 "there is a great chasm that has been fixed between where we are and where you are that none may cross."  The man in anguish is the one who made that chasm because he refused to open his front gate.
Dear God, forgive me for there is food in my waste barrel by my front gate and so many are food insecure.  Amen.
Friday, May 6, 2022. Prayer 1352. By The Narrow Gate
Jesus taught us, "Enter by the narrow gate.  For the gate is wide and way is easy that leads to destruction, and those who enter by it are many.  For the gate is narrow and the way is hard that leads to life, and those who find it are few."  It's easy to make bad choices and blame others and God for all the problems that we experience in life.  The way to enter the gateway to God is through prayer.  We pray on our knees that God show us the way to enter the gate that leads to a Godly, Spirit-driven life.  Sadly, it's so easy to enter through the gates that lead to life diminished.
Dear God, grant that I may be willing to choose the hard thing in order that the right thing happens for all. Amen.