During COVID-19 we have been observing public health advisories around gatherings at the church. Your health and well-being is important to us.
Our weekly Sunday morning 10am Worship Service is open to the public and we gather in-person outside, weather permitting. Currently, we are still masking, sanitizing and social distancing. For services in the Sanctuary we are still observing the recommended advisories regarding gatherings.
Our weekly 10am Worship Service is streamed live on YouTube. Please click on "Worship on-Line" to watch live and previous services anytime.On-line Bible Study class meets on Tuesday mornings. If you wish to participate by Zoom please contact us for a weekly link.
Due to COVID-19, our building remains closed. Please call or e-mail the office that we may best be able to serve you.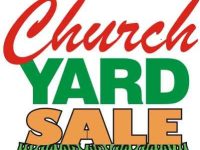 The Annual Spring Yard Sale will be held on Saturday, June 5th from 8am to 2pm. A follow up yard sale will be held on …